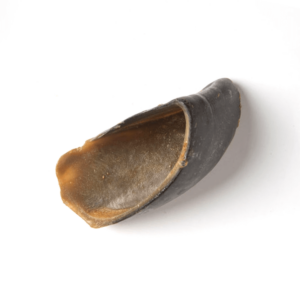 Premium Cow Hoof Dog Treats are an outstanding choice for dogs that love to chew. Each chew is trimmed and shaped for your dog's enjoyment and the natural texture helps keep teeth and gums clean. Cow Hooves are also rich in natural glucosamine and chondroitin to help maintain joint health. Each natural hoof is sanitized and contains no chemicals, preservatives or additives.
USDA certified and inspected.
Important:
As with all chew treats, veterinarians strongly recommend supervising your pet the entire time they are chewing. Dispose of any small pieces to prevent swallowing. Always supply your pet with plenty of fresh water.
| Available in: | UPC | SKU |
| --- | --- | --- |
| Cow Hooves | 3 pk | 813471015868 | 031CPS-BF-H |
| Cow Hooves | 6 pk | 813471017947 | 031CPS-BF-H-6PK |
| Cow Hooves | 60 pk, box | 813471017954 | 031CPS-BF-H-60 |
Please note: Due to the nature of natural products, all sizes listed are approximate and actual size may vary.
For more information, please call 888-466-5141.