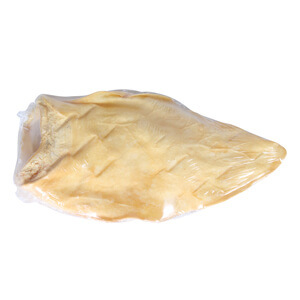 Second to professional dental cleanings and daily brushing, there's no better way to encourage good oral health in pets than delicious, mouth-watering dental chews. Take, for instance, these beef ear dental treats. When your dog chews on these snacks, the surface rubs off on their teeth and gums and encourages better oral health. A high protein content and a lack of gluten heightens the nutrition content. However, unlike visits to the vet and toothbrushes, you shouldn't have a hard time encouraging your pets to take these treats. These beef ears have a rich, slow roasted beef flavor which your dogs will absolutely love!
Important:
As with all chew treats, veterinarians strongly recommend supervising your pet the entire time they are chewing. Dispose of any small pieces to prevent swallowing. Always supply your pet with plenty of fresh water.
| Available in: | UPC | SKU |
| --- | --- | --- |
| Cow Ears | 10 pk | 813471015684 | 031CPS-01568 |
| Cow Ears | 100 ct box | 813471016285 | 031CPS-01628 |
Please note: Due to the nature of natural products, all sizes listed are approximate and actual size may vary.
For more information, please call 888-466-5141.